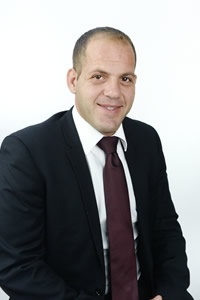 Michael Hadjicosti
Director
Michael qualified as a Chartered Certified Accountant on 31 August 2011 
In 2006 he was employed by PwC Limassol and remained with PwC until 2009 when he joined Abacus Limited, Limassol office. During his time with Abacus, he got promoted to Manager and was also appointed Manager in Charge for the Fund Registration and Administration Department. He gained extensive experience on dealing with futures, options, stock, bonds and other derivatives through his position as Manager in the Fund Administration Department.
On 1 January 2017, he was transferred to Crystalserve after the transfer of operations of Abacus Limassol office to Crystalserve Fiduciary Services Limited
He is a Fellow of the Association of Chartered Certified Accountants (FCCA) and the Institute of Certified Public Accountants of Cyprus (ICPAC). He is also a member FUND/ADMIN Committee of CIFA. Michael also holds Accounting and Fiduciary Services professional licenses.
His interests include playing and watching football, bowling, listening to music and skiing.